Laboratories
The Department features 2 laboratories covering it educational and research requirements ...

Signum Journal
The Department reissues SIGNUM Journal, published during 1970's and 1980's by the Chair of Philosophy.

Announcements/News
Announcements and miscellaneous news, selected by the Department's staff, are posted here for your information.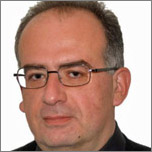 The Department of Humanities, Social Sciences and Law announces with great sadness the loss of our dear colleague Assistant Professor Aristidis Arageorgis. A funeral service will be held on August 11th 2018 at 12.00 at the 1st Cemetery of Athens.